Outsourcing is the result of world's progress and it's definitely settled here for good. Too many people it's the new norm and the way things work. However, choosing the right business partner can be really stressful. The question shifted from why –  to where to? Here's 6 reasons why outsourcing software development to Poland is a good choice.
What is outsourcing
If you've read our previous article about 6 benefits of outsourcing your software  you know very well what outsourcing is. Moreover, you know its benefits and I'm pretty sure you're open to try it for yourself. However, if you haven't read it, I fully recommend reading it before going further into this one. For those of you that have read it already, it's no harm to refresh your memory a little bit. Outsourcing is a form of cooperation with other company that takes care of a certain business process. We're focusing on outsourcing software development in this case. For instance, a company wants to do an app or needs a whole software for its IoT project. However, it's too expensive to hire a team of developers. They decide to outsource this software in order implement said project without having to turn everything upside down in the structure of the company.
IT market in Poland has growing on its own
Polish IT market has been calculated to be worth PLN 42 billion in 2018 and it grows more and more each year. We grew thanks to outsourcing but it allowed us to learn and get the experience we needed to start working on our own projects. Thanks to strong will of wanting to get better and better we developed our own R&D sector. Poland is very determined to make an impact and created their own path. Polish software companies are working hard to lay their feet in Space Industry.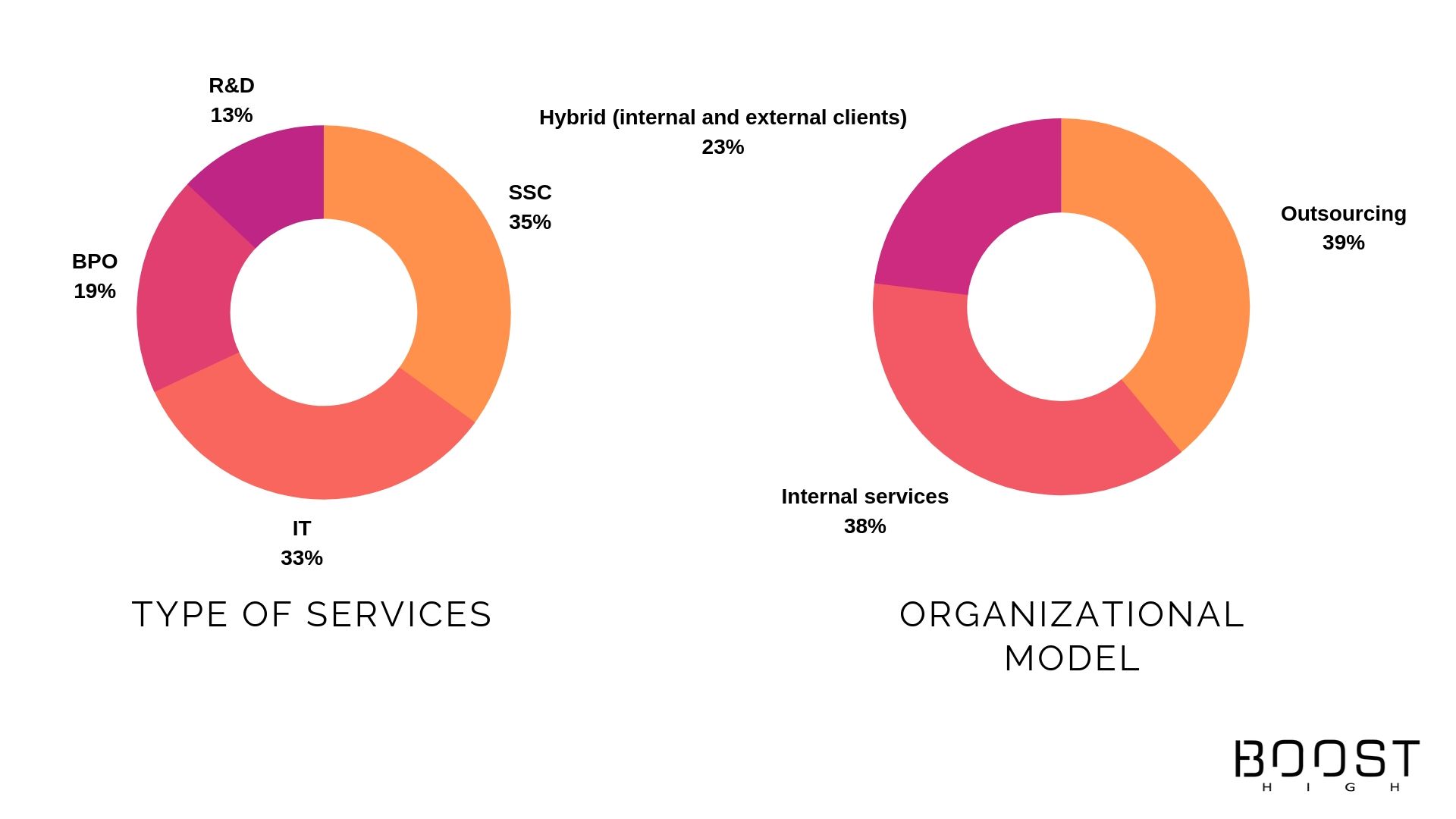 Left chart shows that Poland is starting to develop its own R&D market. The right chart proves that Poland is not only depending on the outsourcing. 38% of companies work for themselves and 23% are a hybrid.
source: Sektor nowoczesnych usług biznesowych w Polsce 2018
Outsourcing Software Development to Poland Gives You An Excellent Code Quality
Whenever you outsource software development to Poland you can expect nothing else than an excellent quality. Polish people are very well educated. Around 32% of them has higher education qualification and the number is still growing. For comparison, USA has a 42% graduates of University. However, looking at Polish history, the number is still very high (and it's getting higher each year). According to the survey from 2017, 79% of polish programmers graduated from a University. Poland has an excellent reputation when it comes to code quality so you can be sure to get the best code possible.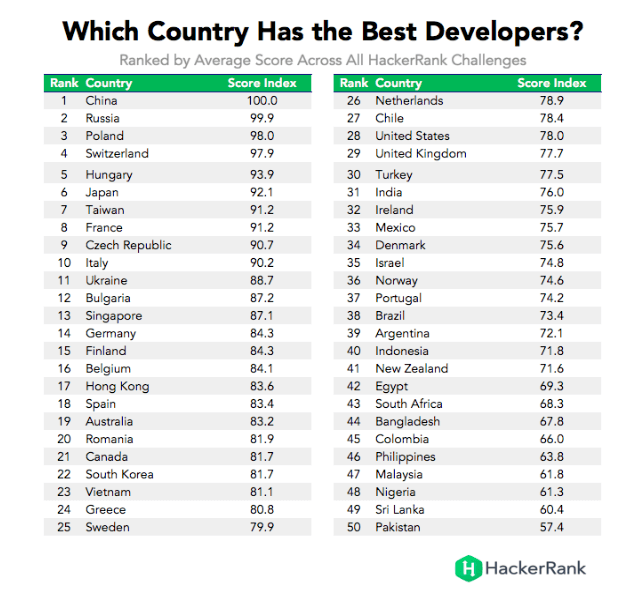 source: Sytuacja zawodowa programistów aktywnych na rynku pracy
Relatively cheap development
Although Poland is not the cheapest when it comes to wages (comparison to other popular for outsourcing countries like India or Ukraine) let's not forget about the quality. That's why it's considered to be relatively low. It's still way less than choosing UK, Germany or USA developers. To get a feeling of how much of a difference there is between those countries, the easiest way is to look at a minimum wages in those countries. Those are NOT the wages for programmers, this graph is for you to get a perspective. As you probably know prices for developers are very different depending on the type of a project and their experience.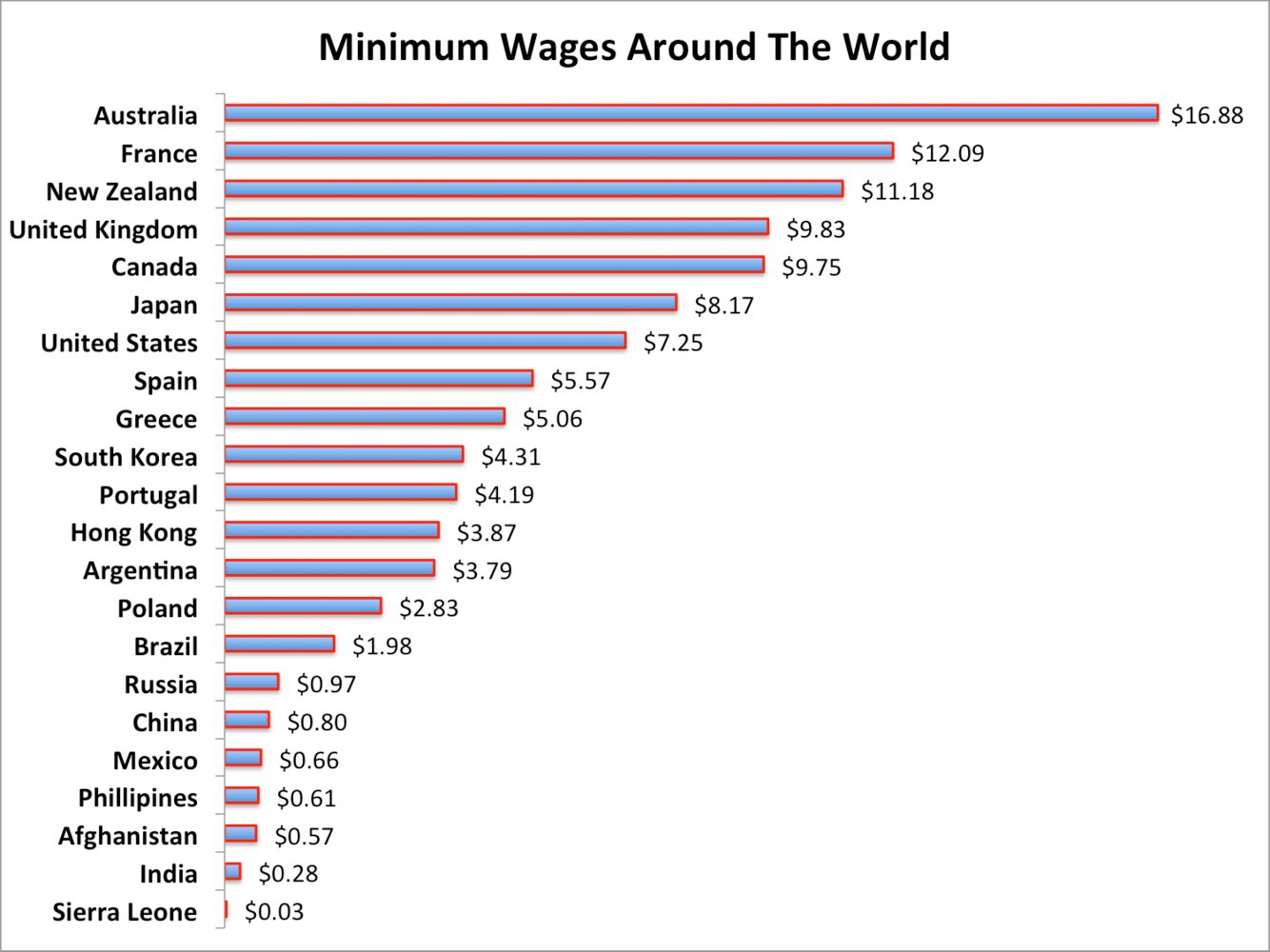 source: Business Insider/Matthew Boesler, data from ConvergEx Group
Safety – Outsourcing Software Development to Poland is SAFE
Poland is a member of European Union and is obligated to meet the requirements and standards of EU. Cooperation is performed within EU norms, which makes the whole process smooth and not as complicated. Moreover, Poland has stable economy and is prospering very well. There's no conflicts with other countries that could possibly endanger execution of your project.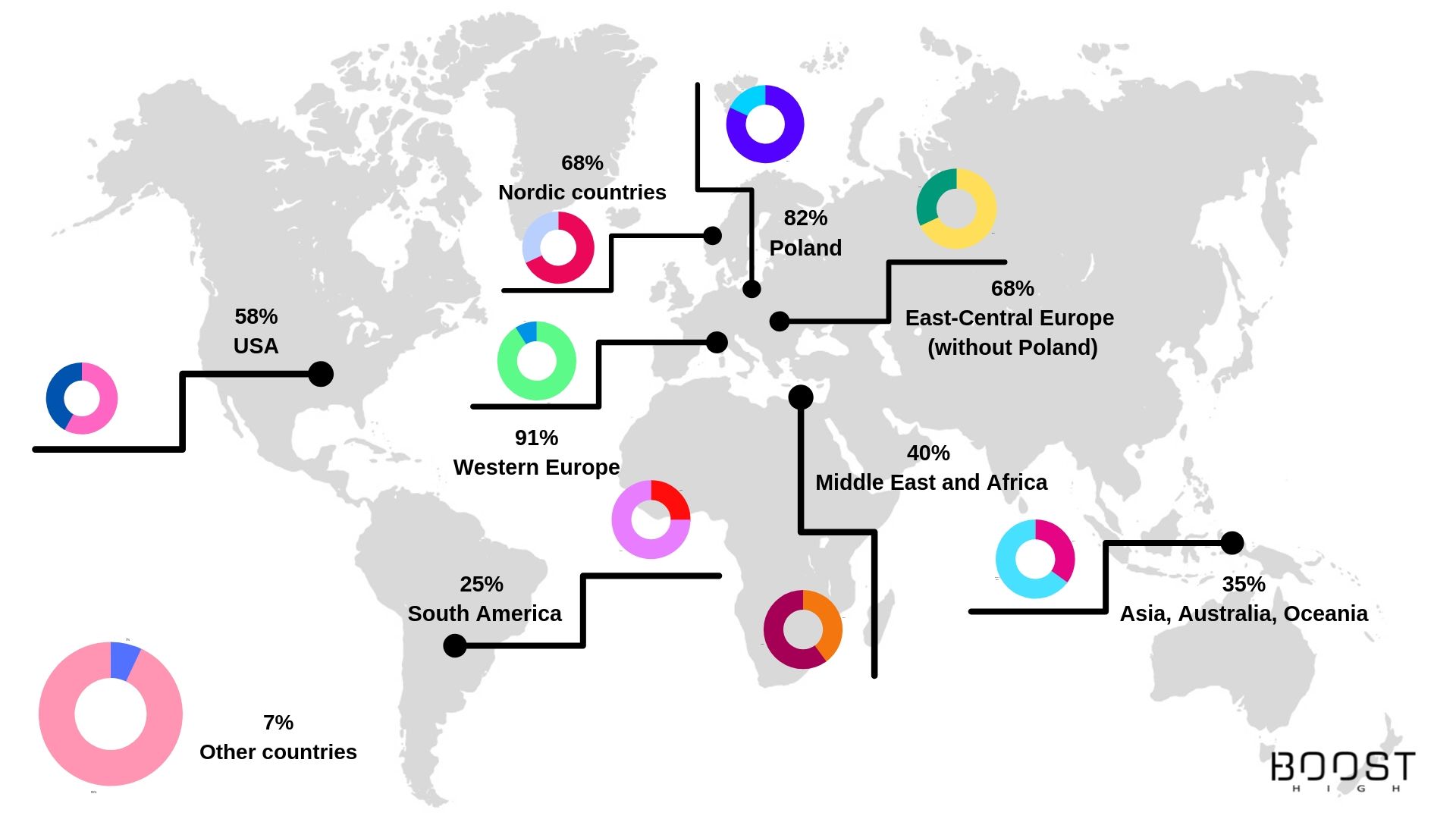 Polish companies are very experienced when it comes to outsourcing. The survey shows that 91% of polish companies provided their services to other European countries, 58% of them cooperated with USA.
source: Sektor nowoczesnych usług biznesowych w Polsce 2018
Cultural similarity
Poland is located in central Europe so you don't have to worry about any cultural differences. The same thing comes with work ethic. There is probably a small difference in the mindsets but it is that way between all countries. The biggest advantage is definitely the fact how well polish people speak English. There's absolutely no language barrier when it comes to that. You won't have any issues with communication whatsoever. Polish people will gladly talk to you via videoconference or phone so you can be sure you'll be understood and vice versa.
It's also worth mentioning that Poland uses SCRUM agile framework so you can be sure that the whole project will be well organized.
Manageable time difference
You might be surprised but time difference is actually very manageable. Moreover it can be even your biggest advantage. From USA to Poland time difference shifts between 6-9 hours. It might sound like a lot but it's very much possible to communicate during normal hours. Moreover, you can suggest changes at the end of your working day and by the time you wake up – changes would already been made. Isn't it very convenient? That's why it can be your advantage. Problem with communication might exists when it comes to outsourcing software from India for instance. Difference between USA and India shifts between 11-14. That sounds like an inconvenience.
Summary
You already know what benefits of outsourcing are. Moreover, you just read about the conditions of outsourcing to Poland. We want you to make the best possible decision for your project so if you're still not sure whether Poland is the right fit for you I recommend reading Why outsourcing your IT to Poland will ruin your life I hope this article will give you some more perspective.

We also recommend reading: