There's quite a few reasons why outsourcing software development company is a popular vendor for many businesses. And it's not limited to cutting costs of development. It can actually improve the final outcome. It can all be done when you find the right outsourcing partner. Here's 5 steps that will help you choose the best outsourcing company. 
Related: 6 Benefits of Outsourcing Your Software
5 Steps To Find Outsourcing Software Development Company That Fits Your Company Best
1. Choose estimated direction of outsourcing based on your needs and wants.
The place where you should look for an outsourcing software development company is going to depend on your needs and priorities. For some people the goal is to spend as little money as possible. Others want a company that will have the same work ethic, values and mindset. Everyone  wants their software to be just as good as if it was made in-house. And it's absolutely possible. It just requires making smart decisions that are not just based on the financial aspect of outsourcing. For some companies offshoring will be a better option than nearshoring or the other way round.
A great mix of all the qualities important in outsourcing software development to have can be found in CEE (Central-Eastern Europe). The prices are much lower than in Western Europe or USA, The code is very well written and there's no big cultural differences that would make the cooperation difficult.
Related: Outsourcing – Is Poland a good choice to outsource my software to?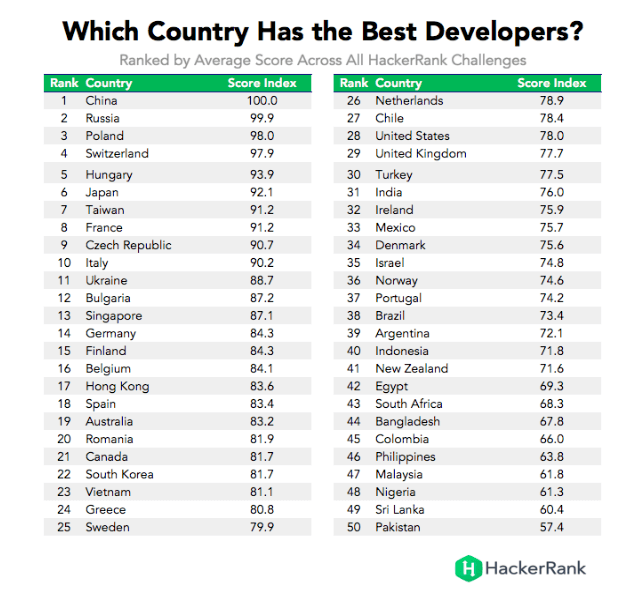 source: https://blog.hackerrank.com/which-country-would-win-in-the-programming-olympics/ 
2. To find outsourcing partner, you need to find time for research.
It's extremely important to find at least a few software vendors that fit your needs best. However, it's not enough. Give yourself time to go through their credentials, their clients testimonials and their portfolio.
A great place to search for trusted companies is clutch.co. They have a process of getting a testimonial from a client that is 100% honest and done without company's involvement or impact.
Many companies find their outsourcing partners by simply asking their contacts if they have someone to recommend.
3. Choose key points that will help you find the perfect outsourcing partner.
When you have a list of potential outsourcing software companies that you want to contact, it's important to know what's on your priority list when it comes to making a decision. Those are usually the things that you might have to ask about in order to get an answer.
Some companies find it extremely important that the developers have a higher level education degree. Others want someone with a lot of experience but not necessarily  a university degree. There might be also factors like: experience in the industry, English skills, price, development process, outsourcing experience etc.
4. Create a list of questions you want to have answers for.
It's important for you to prepare for a conversation. As we all know, it's easy to forget about something. Making a list of question is going to prevent us from making a decision without some of the key answers.
So what should we ask about? It's important to touch on all of your key points. Conversation is also a great opportunity to ask about the things you've read on their website to confirm its authenticity.
Call is also a great test to find out how the communication between you two in going, if there are any barriers or misunderstandings.
5. Don't hesitate to ask for a sprint trial.
Outsourcing software companies are aware that their often need to prove their skills in order to get a project. That's why sprint trials are not a rare thing in this industry. Their allow both sides to test if the cooperation is working out for them. You get to test their code and make a final decision.
This practice is great for many different reasons. You get to see the snippet of a code and review its quality. You can see how outsourcing software development company is taking care of their client. Moreover, the ways of communication and the level of your involvement is also perfectly shown during that time.
Summary
Choosing the perfect outsourcing software development company can be difficult but when done right it can create a long-term partnership between companies. It can add a great value to your company and become one of the best assets.
In our opinion, these 5 steps are essential to go through in order to be fully satisfied with your decision and outsourcing partner.

We also recommend: